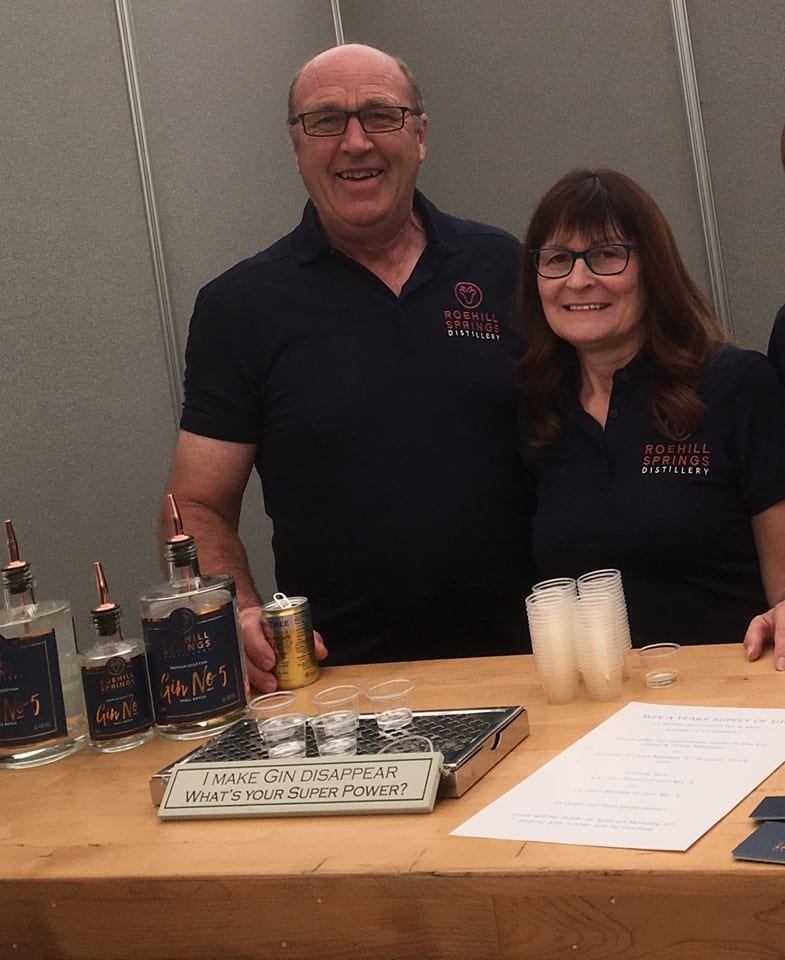 Roehill Springs Distillery is a small artisan Distillery, based in a building on the third generation, family-run farm at Newtack, Crossroads, Grange, KEITH.
As this is a small artisan business, all work is carried out by family members who live on the farm.  It is distilled, bottled, labelled, waxed and packaged by hand, on-site at our farm which has been in the Morrison family for over 60 years. 
Roehill Springs Distillery comprises of husband and wife team Duncan and Shirley Morrison.
Duncan is the master distiller!  As well as running the family farm, he has also worked for 12 years as a stillman and gained the Institute of Brewing & Distilling's General Certificate in Distilling.  Duncan has thought about making his own gin for years, but finally had the courage a couple of years ago to go for it!
Numerous batches of gin were made using different botanicals and different quantities of botanicals.  We kept note of all of the different recipes and we nosed and tasted them ourselves at first, before offering them to family members and friends for their feedback.  
Recipe No. 5 came out the firm favourite and so, after some pondering about a name, someone suggested it be called Gin No. 5 – and so it is!
Our premium, small batch, handcrafted gin is distilled in a 30 litre traditional pot still, capturing only the heart of the run, using the finest locally foraged and traditional botanicals and our own natural spring water.  The spring rises on land known as Roehill – named because of the abundance of roe deer roaming freely on the land. So, what name would we give to our new business? Roehill Springs Distillery of course! It followed then that a roe deer head would be the perfect Logo.  Roe deer are elegant, graceful and rather secretive; qualities we hope you will agree could be used to describe our gin.
Our traditional copper pot still with a large column and built-in vapour basket gives the vapour lots of copper contact – stillmen call this "the copper kiss" – which makes for a lighter, fruitier gin.
Here's an interesting fact about the water we collect from our own natural spring (Roehill Spring) for the distillation and reduction processes. Up until 1977, Roehill Croft was occupied by brother and sister, John and Bell Wood. The croft house had no electricity or running water.  Every day, rain or shine, Bell would walk down through the fields into the haugh, a wooden yolk around her shoulders with a bucket either side, to fetch the water for household use.  The hardy pair lived well into their 90's.  Perhaps the water from Roehill Spring has secret health-giving properties?
Duncan & Shirley Morrison