GIN No.5
Roehill Springs No. 5 has a flavour profile led by classic Juniper, followed by bold citrus, sweet floral notes and a beautiful, smooth mouth feel.  
Many of our clients have commented that our gin is so smooth that they enjoy drinking it neat with ice! 
Master distiller Duncan and his wife Shirley created this stunning gin using water from their own natural spring, which rises on land known as Roehill. Gin No. 5 is hand made with the best quality, locally foraged and traditional botanicals e.g. Juniper and coriander. It is then expertly distilled in a copper pot, giving it a lighter and fruity taste – known as a 'copper kiss'.
Premium artisan gin; distilled, bottled, waxed and labelled by hand on the Morrison family farm.
Gin No. 5 – We made numerous batches using different botanicals and different quantities of botanicals.  We kept a note of the different recipes we used and nosed and tasted them ourselves and then offered them to family members and friends for their opinions.  Recipe No. 5 came out the firm favourite and so we decided to call it just that! Gin No. 5 was born! – Husband and wife team Duncan and Shirley Morrison
ROEHILL SPRINGS BLUE
Blue is said to induce calm and peace.
Pink is said to exude warmth, happiness and a love of life!  
Why not have it all?
Of course, the real magic is in the taste…….  Roehill Springs Blue – a light gin, with a fruity side!
Bring back the magic with Blue, the second gin from Roehill Springs Distillery.  
To create Blue, we've reduced the alcohol content slightly to 40% and added an extra botanical – Butterfly Pea Flower!  
With its mesmerising shade of blue and colour-changing effects, Butterfly Pea Flower is magical!
Watch as the gin changes colour when you add your mixer.  The colour will depend on the pH of the mixer added, but it will usually change from blue to purple to pink!
We like to enjoy Blue with ice, premium Indian tonic water and a garnish of blueberries.
Butterfly Pea Flower is commonly found throughout Southeast Asia. In India, it is revered as a holy flower, used in daily puja rituals.  It is also known as a traditional Chinese and Ayurvedic medicine and has been consumed for centuries (mainly in the form of a tea) as a memory enhancer, brain booster, anti-stress and calmative agent.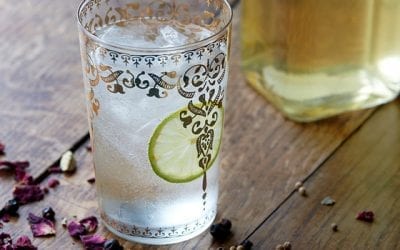 The Classic G&T The headline act. A gin and tonic evolves into something far more complex with the right twists.  You'll need:ginlots of icea big copa glass (a large, balloon-shaped glass)natural tonic wateryour favourite garnish Celebrate this piece of heritage...